Carpet in Lawrence, KS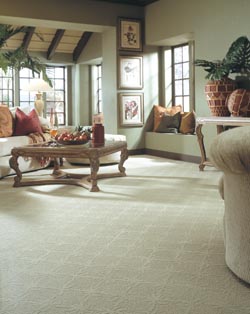 Is the carpet in your home looking tattered? If it is stretched, lumpy or stained, it may be time to purchase new carpet flooring from our reputable store. Our showroom offers an extensive selection to upgrade your home from dated to dazzling.
Whether you are looking for a carpet floor style that is bold and bright or you favor neutral colors, you can rely on our team of flooring experts to help you find home carpeting that suits your style as well as your budget.
At our flooring store, our sales team is fully trained on every type of floor that we sell so they can best serve our valued clients. From frieze to Berber carpeting, we will explain the benefits of each of the assorted styles in our store and help you select the variety that will perform the best in your home. Plus, we offer professional carpet flooring installation so that your floors look lovely and last for many years to come
Our showroom is filled with every color of home carpet that you could ever want. From neutral shades of off-white and beige to vibrant favorites including green, pink and plum hues, you are sure to find the carpets that perfectly suit your aesthetic preferences. We offer hundreds of different colors, styles, and textures. Are you looking for a specific type of carpet floor? We sell velvet, Saxony, texture, frieze and Berber carpet, as well as an assortment of patterned styles.
Do you want to see how your favorite choices will look in your home before you make a commitment? We have complimentary samples available to bring home so that you can make sure it will coordinate with your interior decor.
The Top Brand Names in Carpet Flooring
Our showroom features a wide variety of quality brand-name carpeting to enhance the beauty of your home while providing easy care and durability for your family. We purchase the top brands from the nation's leading manufacturers at great prices. This is because we buy carpeting as part of a nationwide buying group. With such buying power, we select only the best for you.

Our carpet flooring manufacturers put their names on the finest fabric flooring in the latest styles and freshest colors and with the latest innovations. Feel confident about quality when you purchase our brand-name flooring. Find these brand names and more when shopping our showroom:
Tigressa® including its newest and softest line of carpet, Cherish™!
Resista®
Stainmaster®
Shaw®
Mohawk®
Karistan®
and more...
Choose Professional Carpet Flooring Installation
Now that you have chosen carpeting that you love, ensure its longevity with professional installation. At our store, we have installers have years of experience in laying carpeting correctly. This involves following the manufacturer's recommendations, as well as proper preparation.
Before our technicians install your carpeting, they rip out the old flooring and clean the subfloor. After putting down padding, they stretch the carpeting so that it is taut, make invisible seams, and make sure it adheres securely. When carpeting is installed properly, it looks soft and inviting and is protected from damage.
We charge competitive prices for our carpet flooring installation service offering you great value. In addition, professional installation saves you money on repairs or replacement for carpeting that is placed incorrectly and subject to ripping and tearing. Ask us to schedule a time for our installers to come to your home.
Looking for a particular brand of carpet flooring? Contact or visit our showroom today and talk to one of our associates about the carpeting you are interested in. Our staff will help you find what you need to fit your budget and your lifestyle. We proudly serve the communities of Lawrence, Eudora, Baldwin, Ottawa, Perry and Desoto, Kansas.