Ceramic Tile in Lawrence, KS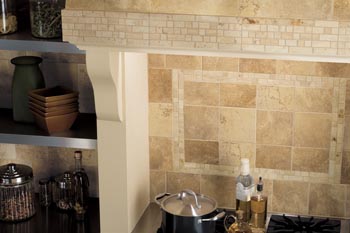 Add elegance to your home or business with a beautiful tile design. We offer an assortment of premium-quality ceramic tile flooring in a variety of colors to suit any style. Whether you want something that is lively and colorful, or you prefer neutral earth tones, you will be sure to find all that you need to transform your flooring at our well-stocked showroom. From ceramic kitchen tiles to bathroom backsplash tiles, we have it all.
Ceramic tiles offer a wide range of advantages over other types of flooring. A ceramic tile floor will last for decades with very little maintenance and adds elegance to any room of your house. When the cost is calculated over the lifetime of the floor, ceramic tile is one of the most affordable flooring options on the market. It's also extremely versatile and can be used on walls, countertops, backsplashes, and other surfaces. Cleaning tile is easy; just use regular household cleaning agents and a mop. With routine care, your tile floor will last for decades.
Ceramic Tile Flooring Installation with Fast Turnaround
Hiring experienced professionals to complete your ceramic tile flooring installation will save you both time and money. Our highly trained installers work quickly and efficiently to deliver exceptional results with fast turnaround times. We're always clean, courteous, and conscientious throughout the installation process to ensure disruption to your home or business is kept to a minimum. Before you know it, you'll be able to enjoy a beautiful new floor.
Our high-quality ceramic kitchen tiles are a great way to breathe new life into an outdated kitchen. When properly installed, tiles are impermeable to water and stain, so they're great for kitchen floors, backsplashes, and countertops. The smooth, hard surface is scratch-resistant and easy to clean and maintain.
Kitchens are just the beginning. Tile is also perfect for bathrooms, laundry rooms, and other areas with running water. Some designers even incorporate tile into living rooms and hallways. With a huge variety of colors, shapes, and sizes to choose from, you're sure to find something that will look great in any room. A ceramic tile floor makes a great impression on guests and potential buyers. When visitors walk into a room with a newly installed tile floor, they will know immediately that you have invested in high-quality materials that will stand the test of time.
Whether you plan to install it throughout all of your living spaces or in one room, here are some notable benefits that you will enjoy when you add ceramic floor tiles in your house:
Exceptional versatility: Can be used on floors, walls, countertops, backsplashes, murals and more
Ease of maintenance: Cleaning tile is quick and easy with household cleaning solution and a mop
Unmatched strength: Extremely scratch- and water-resistant so it looks great even after continued daily wear
Unparalleled value: One of the most affordable flooring options available
The Top Names in Tile
At our store, you'll find the very best products from the industry's most respected manufacturers of ceramic tile flooring. Our showroom is stocked with tiles from industry-leading companies, including all of the following:
Terra del Sol
Star Values
Design Distinctions
Bellisima Tile
Dal-Tile
Hearth & Home
American Olean
SelectAFloor
Floorcraft
HomeCraft
And more!
Make a Bold Statement with Tile
Tile is a practical and durable flooring material, but it also offers a huge range of creative design possibilities. The modular nature of tile makes it possible to create intricate patterns and layouts that add character to a space. Whether you choose to create a classic black-and-white checkerboard pattern or a colorful mosaic, you'll find all the materials you need at our showroom.
Book a consultation with an expert in ceramic tile flooring installation to discover more possibilities. Our talented designers keep up-to-date with all the latest trends in flooring, so we know how to create stunning interiors. We're always happy to help our customers come up with new designs. If you need guidance or advice, just ask a member of our team. We'll talk you through the whole process, from planning to installation.
Contact us today to schedule installation of a new tile floor. We proudly serve customers in Lawrence, Eudora, Baldwin, Ottawa, and Perry, Kansas.