Enhance The Beauty of Your Home with Affordable Hardwood Flooring
Give your home a beautiful, classy, and updated look by installing new hardwood floors from Kring's Interiors. As one of the most popular home flooring choices, hardwood flooring is a classic option that adds real value to any property. Whether you want to change the look of your dining room or remodel your entire home or business, engineered or solid hardwood flooring will add timeless beauty to any room.

When most people consider wood floors, they immediately consider the price tag. We're here to help ease your worries on this with our exceptionally low and affordable pricing. Our team of flooring experts is ready to "floor" you with our commitment to customer service and your complete satisfaction. We carry an outstanding selection of hardwood floors that allow you to create the look you want while keeping within your budget!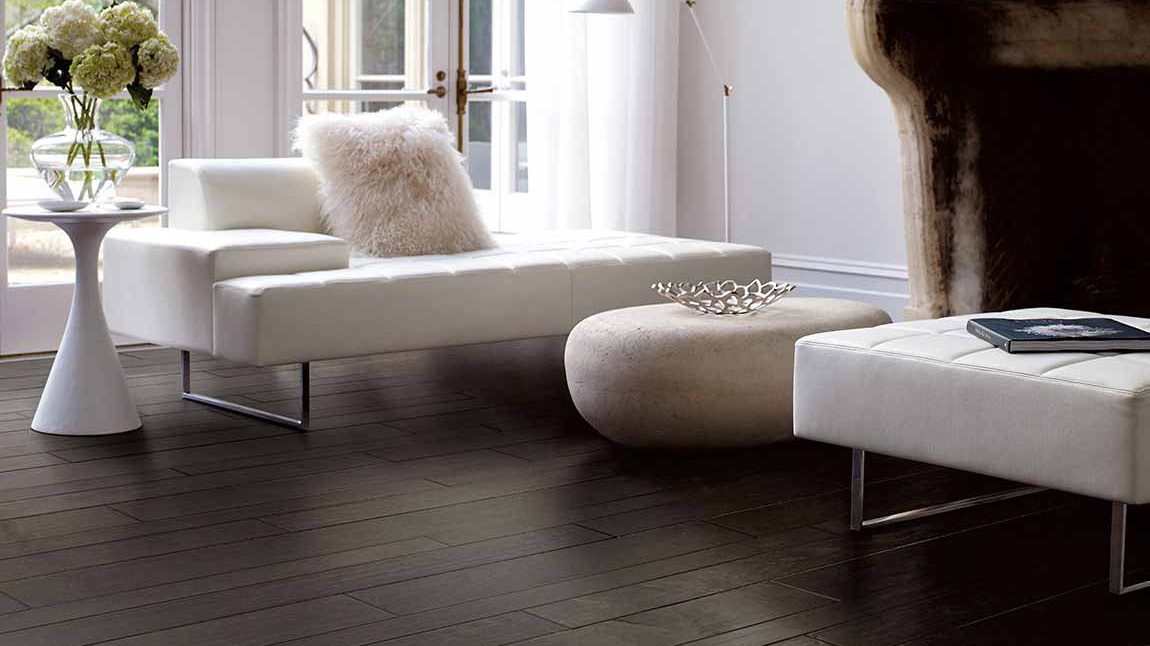 Solid vs. Engineered Hardwood Flooring
Wood floors are well-known for being durable and attention-grabbing. From living rooms and bedrooms to hallways and dining rooms, our solid and engineered hardwood flooring will provide you with the right amount of style, functionality, and durability to fit your needs. When you work with one of our flooring specialists, we consider the technical elements of your flooring project, including time constraints and ease of installation, when helping you choose your new hardwood floors. Learn about the types of hardwood floors we proudly carry:
Solid hardwood

is sold as one genuine piece of hardwood planks that offers the most natural appearance. Thicker in construction, solid wood is a sturdy flooring choice that can be given a satin, matte, or gloss finish, depending on your preferences. Solid hardwood can last a lifetime and is perfect for bedrooms, living rooms, dining rooms, and hallways with proper care.

Engineered hardwood

is made from three or more layers of wood, with the final product being cross-directionally laminated and fused with a top layer of premium hardwood veneer. It is more resistant to moisture, water, and humidity than solid hardwood, which makes it perfect for below-grade installations where dampness is common. It is a great choice for kitchens, bathrooms, and basements.
Wood Flooring's Many Benefits
There are so many benefits that hardwood flooring can bring to your space. Whether you choose solid or engineered wood floors, they can bring various benefits. Our hardwood flooring selection comes from the best brands and manufacturers in the flooring industry. By only providing our customers with hardwood from top-quality brands, you know you are getting floors that will last a lifetime. Learn more about hardwood's many benefits:
Enhances the look and feel of your home by adding

a timeless appeal

.

Low maintenance and

easy to keep clean

.

Adds value

to your home.

Solid

and

durable

, meaning it can last for decades and is an excellent

long-term investment

.

Helps improve interior

air quality

.

Looks

great with any decor

style.

Comes in

various appearances

, colors, styles, stains, and species.

Improves acoustics

in your space.
Maintaining Your New Hardwood Floors
Regardless of whether you decided on adding solid or engineered hardwood floors to your home, the process for cleaning and maintaining both is the same. We recommend using a little soap and water or a wood-specific cleaning solution such as Murphy Oil Soap or Bona to keep your hardwood floors clean and vibrant. For lighter cleaning, you can always dry-mop your floor before using a damp mop or rag. If you want to make your floors extra shiny, you can purchase a wood polish that will keep your hardwood looking brand new and can be used every 2-4 months. Our hardwood is water-resistant, but you can find the most water-repellent hardwood flooring from Aquadura H2O. With advanced waterproof blocking technologies, you can put your fears of warping or saturated hardwood behind you!
Professional Hardwood Flooring Installation
Once you have chosen your hardwood floor of choice, then it is time to schedule professional installation to ensure your wood floors all fit perfectly together. With an experienced on-site specialist, we guarantee your new flooring will look exquisite. While a wood floor is one of the most attractive types of floors you can install in your home or business, if it is improperly installed, you'll end up with a creaky, problematic floor that puts your smart investment into the hole.

Our Ultimate Confidence Guarantee serves as one of the best warranties in the industry. It is our promise to you that your satisfaction is important to us. Should you find yourself dissatisfied with our installation, give us a call and we can perform any necessary repairs completely free of charge.



Contact us to learn more about our selection of solid and engineered hardwood flooring. We proudly serve customers in Lawrence, Eudora, Baldwin, Ottawa, Perry, KS, and the surrounding communities.