Hardwood Flooring in Lawrence, KS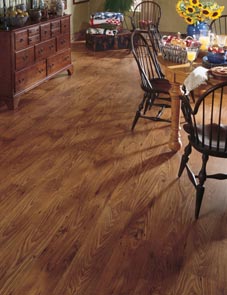 Give your home a classy and updated look by installing hardwood flooring. It is one of the most popular choices for homeowners looking to upgrade their property. Wood floors are a classic choice that adds real value to any property. Whether you want to change the look of a dining room or remodel your entire residence, engineered or solid hardwood flooring adds immediate beauty to any room in the house.
Affordable Hardwood Floors
When most people consider hardwood floors, they usually think about the price tag. If you are concerned that solid or engineered hardwood flooring is out of your budget, think again. The team at our flooring store is ready to "floor" you with our affordable prices. We carry an excellent assortment of discount hardwood flooring that allows you to create the look you want in your home while keeping you within budget. Find out why so many people throughout the area are turning to us for all of their wood floor needs.
Quality Wood Floors from Popular Brands
When you visit our flooring store, one of our friendly and knowledgeable flooring specialists will familiarize you with the finest and most popular brands of hardwood flooring on the market and in our store. The design consultants at our showroom are ready to help you narrow down your search so you can pick the ideal floors for your home. These wood floors are produced in a variety of different grains, color tones, textures, and styles, which allows you to find the right one for each of your rooms.
From kitchens and bathrooms to living rooms and family rooms, our solid hardwood flooring and engineered hardwood flooring provide you with the right amount of style, functionality, and durability to fit your specific needs. You are sure to find something that goes well with any style of décor by shopping at our flooring store and working with our design specialists.
Solid Hardwood & Engineered Hardwood Flooring
The two primary types of hardwood flooring are solid hardwood and engineered hardwood. Solid hardwood provides strength and durability. It also gives you the high-quality look you want while ensuring your new floor remains a great, long-term investment. Easy-to-clean, solid hardwood flooring improves the indoor air quality of your property while giving it an ageless quality you will love.
Engineered hardwood is typically more affordable, yet it looks like solid wood flooring. It also offers more protection against moisture than standard hardwood. This type of flooring is excellent for damp basements or other areas that are more prone to moisture buildup. It allows you to continue your impressive wood floor design throughout your home, even in rooms that would not typically benefit from wood floors.
Complete Hardwood Floor Installation
Once you have chosen your hardwood floor of choice, then it is time to schedule professional installation to make sure your wood floors all fit perfectly together. With an experienced specialist on-site, we guarantee your flooring looks exquisite. While a wood floor is one of the most attractive types of floors you can install into your home, if it is improperly installed, you'll end up with a creaky, problematic floor that puts your smart investment into the hole.
Allow our skilled professionals to provide accurate and affordable hardwood floor installation services.
The trained and insured hardwood floor installation team at our flooring store understands everything there is to know about the different solid hardwood flooring and engineered hardwood flooring products we sell. So, we know how to install them correctly and ensure your floor looks fantastic, but we are also knowledgeable enough to answer any questions you have about your new floor or the installation process. Do what is best for your home by choosing our hardwood floor installation technicians after you save money by buying your new floor from our store.


Contact our hardwood flooring specialists to learn more about our current selection of solid hardwood and engineered hardwood flooring. Our company is proud to provide free estimates to customers located throughout the communities of Lawrence, Eudora, Baldwin, Ottawa, and Perry, Kansas, as well as the surrounding areas.