Laminate Flooring in Lawrence, KS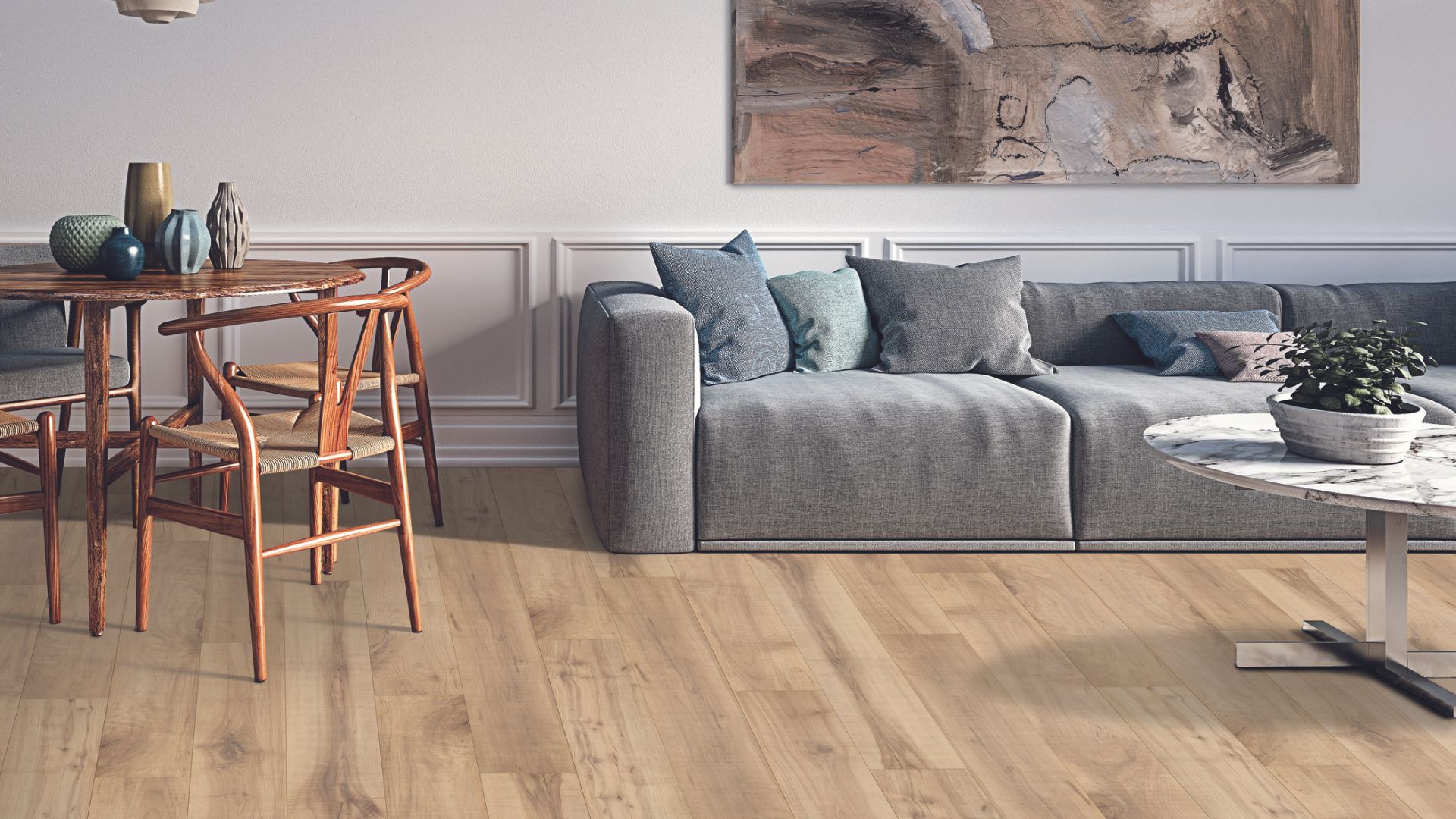 Elevate the ambiance of any room in your Lawrence home with the flooring you've always envisioned, all while keeping your budget in check. Welcome to Kring's Interiors - your local hub for top-notch laminate flooring. Our expansive range boasts a plethora of styles and colors, catering to your unique preferences. Rest assured, our budget-friendly laminate options emanate the splendor of natural hardwood or tile at a fraction of the cost.
Come to our showroom in Lawrence, KS, where the flooring world unfolds before you. Discover laminate floors that effortlessly tie together easy upkeep with exceptional performance. Engineered for enhanced comfort, style, and practicality, our laminate floors transform your space elegantly.
Whether you've mapped out your dream home aesthetic or seek inspiration, laminate flooring delivers your desired flair without breaking the bank. Join us at Kring's Interiors, and let's transform your Lawrence abode together. Your vision, our expertise - the perfect pair for creating stunning floors that endure.
Types of Laminate Floors
We proudly carry two types of laminate: laminate wood flooring and laminate tile flooring. Learn more about each type:
Laminate Wood Flooring: Immerse yourself in the timeless allure of hardwood floors, all without the hefty price tag. Our laminate wood flooring captures natural wood's genuine appearance and tactile feel, infusing warmth and sophistication into every corner of your dwelling. With an expansive array of styles, hues, and finishes, locating the perfect match for your design inclinations is a breeze. Revel in the sturdiness and fuss-free upkeep that laminate wood flooring brings; it fends off scratches, stains, and fading. Its ability to resist moisture renders it a fitting choice for kitchens and bathrooms, where traditional hardwood might not fare as well.
Laminate Tile Flooring: Embark on a journey to attain the elegance of ceramic or stone tiles through our laminate tile flooring collection. These floors artfully emulate the exquisite look of tiled surfaces while delivering the practicality and cost-effectiveness that define laminate. Discover an array of tile designs encompassing the charm of ceramic and the grandeur of stone, enabling you to craft captivating visual displays within your home. Laminate tile flooring promises effortless maintenance and longevity. Experience the cozy embrace and gentle warmth beneath your feet, a stark contrast to conventional tiles. This makes it an intelligent selection for areas where both style and comfort take precedence.
Why Should You Choose Laminate?
Laminate flooring brings a multitude of advantages to your home, transforming your space with style and durability. Here's why laminate is the ultimate choice:
Realistic Resemblance: Laminate is the master of disguise, replicating the allure of your cherished flooring styles like hardwood or ceramic tile. Thanks to cutting-edge manufacturing techniques, it captures every intricate detail.
Four-Layer Excellence: Comprising four robust layers, laminate ensures top-tier performance. The moisture-resistant base shields against dampness, while the sturdy core withstands heavy foot traffic, maintaining its form.
Defensive Wear Layer: Safeguarding your floor against stains and marks, the wear layer boasts a fusion of melanin resin and aluminum oxide. This dynamic duo is your floor's armor against life's little mishaps.
Decorative Flair: The top layer doubles as a canvas for creativity. Dive into a world of patterns and designs, granting your space an aesthetic boost.
Easy Maintenance: Laminate floors are incredibly easy to clean. Regular sweeping and occasional damp mopping is all that is needed to keep your laminate floors pristine.
Affordability: Compared to hardwood flooring and other alternatives, laminate offers a cost-effective solution without compromising quality or style.
How is Laminate Flooring Made?
When choosing which type of laminate is best for your home, it is critical to understand the different types that we have available. Laminate flooring is made using either high-pressure or direct-pressure methods. Learn more about each method:
Direct-Pressure Method: All four layers fuse simultaneously under this approach, offering affordability and widespread availability.
High-Pressure Method: Layers fuse individually under heightened pressure and heat for maximum resilience. This method yields the most robust laminate varieties.
Expert Laminate Flooring Installation
As your all-in-one flooring store, you can trust our installation experts to install your new flooring. Once you choose your new laminate, we will schedule a time to perform the installation. Our professional expertise and flooring equipment ensure the installation process is quick and easy. We will work around your schedule and give you the most affordable rates.
When you work with us, you will get outstanding results. We know how to do every step of the installation perfectly. Everything is done with the utmost precision and professionalism, from preparing the subfloor to laying down the laminate materials. Once we finish the installation, you can expect your new flooring to be securely attached and seamlessly fit the perimeter of the room. Our installation services will make your new floor look better and last longer. Our promise of a quality job is backed by our Adore Your Floor Guarantee, which assures any necessary repairs relating to installation are free of charge within 30 days of your installation.



Contact us to learn more about our laminate flooring selection. We proudly serve Lawrence, Eudora, Baldwin, Ottawa, Perry, and Desoto, KS.