Vinyl Flooring Flooring in Lawrence, KS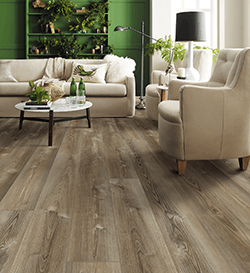 Broaden your design horizons and cover more of your floor that you ever thought possible with our selection of vinyl flooring in Lawrence, KS. Kring's Interiors is focused on your satisfaction, so we provide you with the design assistance you need to complete your next project. Our specialists will greet you at the doors and help you identify the flooring products you need for every room in your home.
We take the time to ask you a series of questions about your needs, your existing décor, and your way of life. Each of the rooms in your home is different in some way. While natural hardwood is great for the dining room, it can expand and warm in places with higher levels of moisture. When the time comes to redecorate the bathroom or finish the basement, our assortment of vinyl products is the smart way to go.
Tell us more about your existing floors and décor, and start collaborating with a team that is ready to inspire. Our expansive flooring showroom features a number of products from the major manufacturers you know and love. Their vinyl products feature additional give underfoot for greater comfort, and the water resistance makes these floors easier to clean as well. Learn more about how vinyl floors can improve the value of your home when you stop by for a consultation today.


Functionality and Appeal
You deserve flooring that fits your way of life. When you are decorating a home with active kids and pets, you need floors that are capable of withstanding scratches and spills. Decorating rooms with higher levels of moisture may seem challenging when your options for flooring are limited. When you take advantage of our selection of vinyl tile flooring, you can transform your kitchen into a destination for the entire family.
Focus more of your budget on the flooring choices in the den and kitchen when you install vinyl sheet flooring across your hallway. The unbroken pattern accentuates the other elements of your home, and the surface provides fewer places for dust and dirt to hide. When the time comes to replace the flooring in the laundry room, vinyl plank flooring can give you the character you want and the functionality you need.


Vinyl Flooring Installation by the Experts
Protect the investment you have made in your flooring when you choose installation by skilled professionals. With our 5-Star Selection System, you can choose floors that include the price protection guarantees and installation warranties you need. You get floors at a price you can count on, and you get the best fit possible in your home or business.



Contact us today for decorating solutions, including our selection of vinyl flooring. We proudly serve customers in Lawrence, Eudora, Baldwin, Ottawa, Perry, Kansas, and surrounding communities.