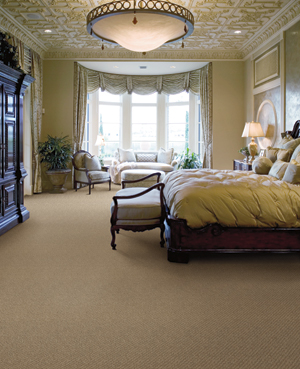 Enhancing the appearance of your interior space is easier than ever with the purchase of new window treatments in Lawrence, KS, from our flooring store. Our company is proud to give you access to an extensive inventory of affordably priced window treatment styles, with a wide range of drapery and shadings available for your home or business, as well as a number of additional options designed to suit any style or color scheme. We are also proud to offer you the special opportunity to upgrade the look of your current windows with accents that bring out the best in your space.
All of our window treatments are specially manufactured to enhance the overall appeal and functionality of your space by offering your windows a whole new look without breaking the bank. Once you're ready to update your windows, be sure to rely on our design experts for assistance. Our Designers specialize in offering a full range of solutions for many types of window treatments, so don't hesitate when you're ready to take a look through the window of opportunity.
Whether you are in need of products for every window throughout your home, or you simply want to replace coverings one room at a time, we can help. Our window treatment design specialists are prepared to educate you about the benefits of the following window options:
Drapery
Curtains
Shades
Shutters
Motorization
Home Automation
The Local Source for Bathroom & Kitchen Window Treatments
Without the right design, a kitchen can easily take on a cold and unwelcoming appearance. Because of this, it's important to make sure that you counter this atmosphere so that everyone who visits will feel comfortable. One great way to make your dining and food preparation area more inviting is with our stylish kitchen window treatments. When you visit our store, our Designers will gladly guide you through our inventory to help you find a window treatment style that matches your kitchen's décor, regardless of the aesthetic you may have. Our bathroom window treatments offer another opportunity to combine stylish appeal with long-term functionality for a great value.
You will find the perfect window covering to satisfy your personal style. The selection we carry features one of the most reputable manufacturers in the industry: Hunter Douglas. These name-brand products are all available at reasonable rates, allowing you to invest in any fashionable or stylish window treatment with the utmost confidence.
Both our curtain panels and drapery panels can be customized to fit within any unique window opening. The custom drapery and curtains offer your household a wide range of practical benefits, including the following:
Ensuring Your Sleep Isn't Disturbed by Light
Preventing Glare on TVs and Other Screens
Enhancing Your Daytime Movie Watching Experience
Keeping Rooms Cool During the Hottest Months
Reducing Monthly Air Conditioning & Energy Costs
Enjoy the Privacy Provided by Our Stylish Drapes & Curtains
Not sure if curtains or drapery are the right choices for you? We also carry a wide range of high-end shades and shutters. These window coverings are able to block unwanted light from entering your home while providing an eye-catching element to the overall space. You can depend on us to help you determine exactly what option fits your needs and budget.
While the morning sun can offer a great deal of natural light to your space, it can also be a rude awakening when it comes through your windows when you're trying to enjoy the last few minutes of sleep before waking up each day. With the addition of drapery or curtains, you'll be able to relax more comfortably while increasing the level of privacy in your home or business. When you visit our store to browse our window treatments, you'll leave with a style that you're sure to love.
Shop our assortment of specially-designed kitchen window treatments and bathroom window treatments to complete the finishing touches of your improvement project. The kitchen and bathroom are two spaces that your family utilizes on a daily basis. The appearance and function of each room are essential to maintaining or improving the value of the home. If you are interested in either of our bathroom or kitchen window collections, consult our store location and meet with one of our window treatment specialists.
Contact us to learn more about our selection of window treatments. We serve clients in Lawrence, Eudora, Baldwin, Ottawa, and Perry, Kansas, plus the surrounding areas.