Tile Flooring in Lawrence, KS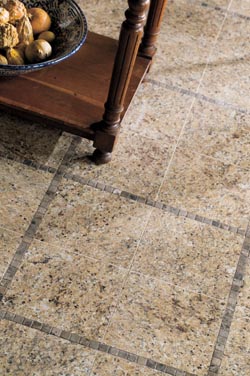 Choose a tile floor from our stunning collections and enjoy floors that are as practical as they are stylish. With our help you can upgrade to a flooring product that doesn't demand daily attention. Shop for tile flooring through our showroom and discover the difference sturdy, long-lasting ceramic can make in your cleaning routine. We carry bathroom and kitchen tiles in many different sizes, shapes, colors, and textures.
Along with traditional ceramic tile products, our shop carries porcelain and wood-look tile options. Porcelain offers enhanced durability, as well as pureness of color due to its white clay consistency. Visit our showroom to explore your options for ceramic and porcelain, or talk to our flooring specialists to learn more about the perks of each.
Treat yourself to a flooring material that can keep up with your busy lifestyle. Ceramic tile is a hardy material that won't grow thin or fade, even after years of use. Additionally, it resists damage well; you'll be hard-pressed to chip or scratch it. However, should your tile floor ever sustain damage, replacing just one section is fast, easy, and affordable.
An investment in tile is an investment in a product that can stand up to daily wear and tear, especially in rooms exposed to plenty of moisture. Many of our clients opt to place tiles in their kitchens and bathrooms; however, you can add tile anywhere you're concerned about wetness, including your mudroom or laundry room. Once it's grouted, this flooring is virtually waterproof.
Leave Tile Flooring Installation to the Professionals
Once you've purchased a suitable product for your home, make another great investment by choosing professional installation services. Tile is a temperamental flooring option that requires a special touch; without help from an experienced flooring contractor, you could end up damaging your home or the tiles themselves. Turn to our team for professional tile flooring installation on which you can depend.
As a locally owned and operated flooring company since 1961, we take pride in our knowledge about all kinds of flooring products. We think you deserve flooring that looks great and performs as intended for many years to come – that's why we recommend you recruit our installation to handle the hard work. Trust your new flooring installation to a team with the right tools and the right certifications.
If you're not completely satisfied with our team's work, don't hesitate to let us know. We care about your satisfaction – that's why we'll return to fix any installation errors at our own expense.
Get Creative with Bathroom & Kitchen Tiles
One of the best things about tile is its versatility. Because it comes in so many different colors, shapes, and sizes, tile is a useful material for any homeowner interested in customizing their living space. Mix and match different styles, or talk to our contractors to learn how we can help you create unique patterns and images. We're more than happy to help you brainstorm ideas for your new floors.
Bathroom and kitchen tiles look great underfoot, no matter where you decide to lay them. However, did you know that you can use tile as more than a flooring material? Tiles can also be used to create beautiful backsplashes around sinks and bathtubs. Add visual interest to any area in your home with bright, bold, or subtle tiles that highlight the style of your bathroom and kitchen.
Contact our team or visit our showroom to learn more about your options for tile flooring. We proudly serve Lawrence, Eudora, Baldwin, Ottawa, and Perry, Kansas, plus the surrounding areas.