Express Your Style with Durable Tile Flooring
Improve the look and feel of your home with new tile flooring from Kring's Interiors. We proudly offer a wide selection of tile options that fit any budget and lifestyle. With the area's largest variety of tile shapes, sizes, and colors, we carry products that suit your taste and meet your needs for a strong performance. Kring's Interiors is proud to bring value to each customer with quality tile products and professional installation services. Whether you desire porcelain for your bathroom or stylish ceramic for your kitchen, we have exactly what you need. Visit our showroom in Lawrence, KS, today to view our stunning tile collection that is as practical as it is stylish!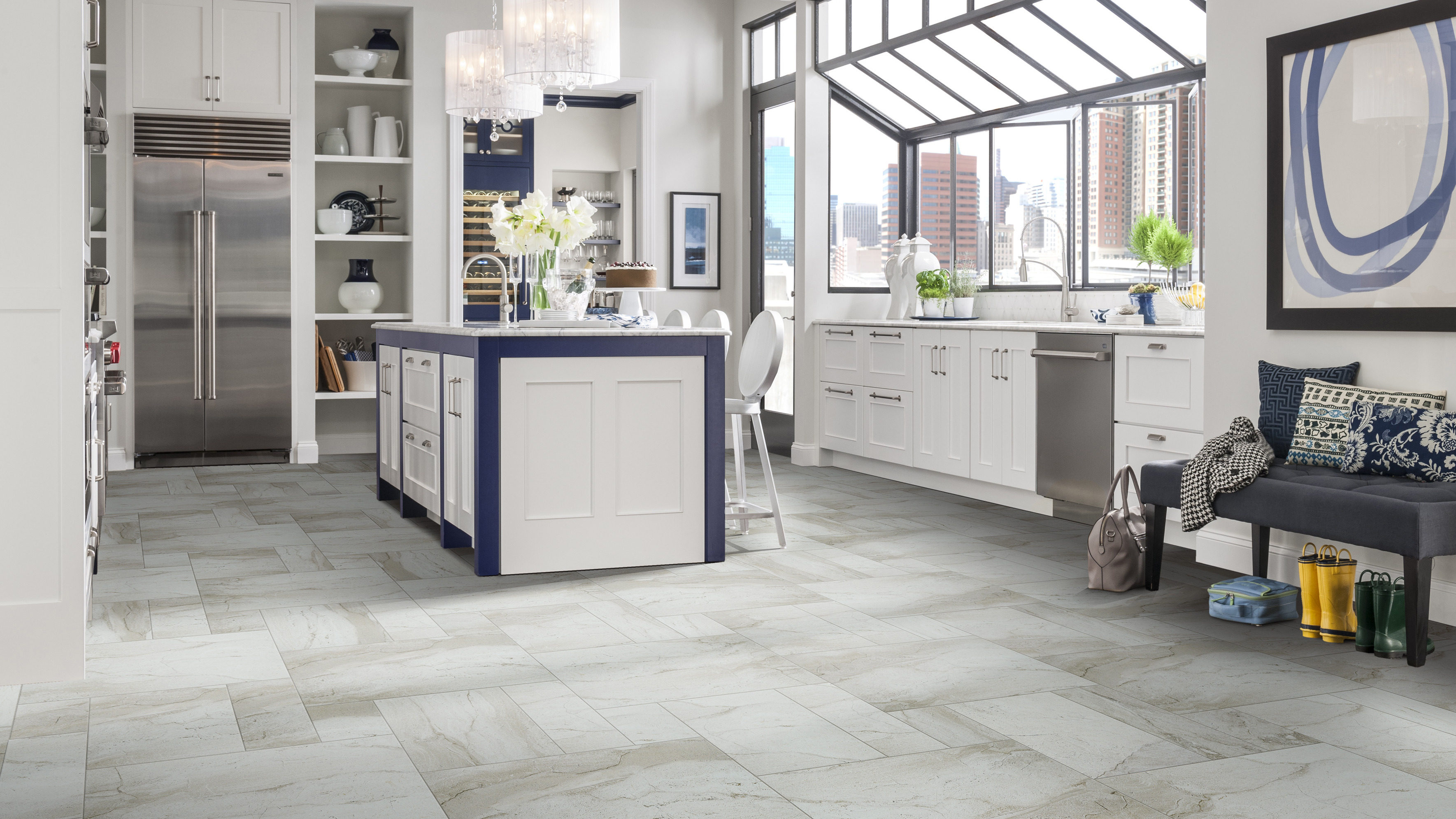 Your Guide to Tile Types
Tile is the best flooring choice for those looking to fully customize the appearance of their floor or patio. Choose between light and dark variations, differing grain styles that range from subtle to prominent, or a marble or wood appearance. Tile is very durable and can stand up against even the toughest messes. We carry three main types of tile: ceramic, porcelain, and stone. We even carry innovative wood-look tile that will make a statement in your home. Learn more about our tile collection:
Ceramic tile

is made of clays kiln-fired at high temperatures. This glazed tile is easy to clean, durable, and can mimic natural wood and stone. Consider a textured ceramic tile if you have pets or kids. There are endless patterns and finishes to consider.

Porcelain tile

is a denser variety of ceramic. Because of its enduring strength, porcelain is famous in commercial settings and bathrooms. It resists significant moisture and comes in endless elegant styles. Choose porcelain tile that mimics hardwood or washed cement; trendy patterns are available.

Stone tile

is made from organic minerals like granite and marble. It's perfect for kitchens, bathrooms, entryways, and outdoor paces. No two stones are alike, so choosing stone tile means your new installation will be distinctively yours. Stone tile adds value to your home and will last for generations.

Wood-look tile is made from porcelain or ceramic tile that looks like hardwood. It comes in planks and is textured to look like natural wood. It is stronger and more durable than genuine hardwood with resistance to scratching, dents, and stains. Wood-look tile floors perform well in any room in your home, especially moisture-prone areas.

The Benefits of Tile Anywhere in Your Home
No matter which type of tile you choose, you will benefit from its many functional characteristics. At Kring's Interiors, we only offer the best tile products from top tile brands, including Floorcraft, Mohawk, Shaw, and many more. From ceramic floors to natural stone patios, we will learn your needs to find the perfect tile solution for your home. Discover the advantages of choosing tile:
Tile is

extremely resilient

regarding staining and everyday wear and tear, making it perfect for placement in high-traffic areas.

Tile doesn't need much for upkeep because of its durability, making it

easily maintained

.

Tile is very

cost-effective

and can fit into nearly any budget!

Tile is

water-resistant

, which is why it is so popular in moisture-prone rooms.

Tile flooring can help

improve the air quality

in your home since they do not hold onto allergens as other flooring types can.

Installing tiles can also help

improve the value of your home

.

We carry tile for more than just your floors! Ask us about our

backsplash

and

wall tiles

.

Some tiles can even be used

outdoors

for a walkway or patio.

Tile is

versatile

and can be fully

customizable

when designing your floor or backsplash.
Tile's Easy Maintenance & Care
When you upgrade to tile, you will discover the difference that sturdy, long-lasting ceramic or porcelain tiles can make in your cleaning routine. Tile floors repel allergens, pollen, and dander, providing seasonal relief. Homes with active families and pets will love how easy tile is to clean and maintain. Follow these simple to ensure long-lasting beautiful tile:
Standard cleaning

can be done with a weekly wet mop and regular sweeping or vacuuming.

For a

heavy-duty clean

, strong solution all-purpose cleaner can be used on glazed tiles, while unglazed tiles can be treated with paste, water, and scouring powder.

We recommend

consulting your tile's warranty

before using cleaners with harsh chemicals as they could damage your tile's finish.
Professional Tile Flooring Installations
When you invest in new flooring for your home, the best way to protect it for years is to let our team of installers handle the job for you. The task of correctly installing tiles can be intricate, requiring proper preparations, straight grout lines, evenly cut tiles, and exact spacing. With our team of expert installers, you are assured that your new tile floors look good and last for many years. At Kring's Interiors, we are so confident that you will be satisfied with your new tile flooring that we offer our Ultimate Confidence Guarantee. This warranty is our promise to you of a quality installation. If you are unhappy with your new floors within 30 days of installation, we will replace them with another product of the same value at no additional cost.

Contact us to learn more about our tile flooring options! We proudly serve Lawrence, Eudora, Baldwin, Ottawa, Perry, KS, and the surrounding areas.